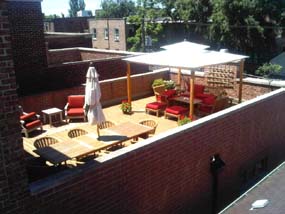 Toronto Decks Installation Services
Decks are one of the most popular features of a home today.  A deck can deliver an welcoming conversion between the home and backyard, and introduces extra space for amusement and relaxation.
There are few items you need to know before installing a roof deck on your property in Toronto. First you may want to contact an engineer to decide if your roof can maintain the weight. Most formations will not have a problem. You also might need a city permit and an Architect to help you in the design and permit procedure.
Also contact a carpenter who has experience in roof decks, because not all Toronto deck installers have the experience to build a roof deck.
Roof decks are different from patio decks or decks on the floor.
Choose Toronto Roofer for your Siding Installation Services in Toronto