Commercial Roofing Services in Toronto
Commercial roofing repair demands expert roofers with tooling and safety protocols to execute Toronto roof maintenance in a safe and professional manner.
Our Toronto commercial roof repair division is available 24 hours for flat roofing, metal roofing and any steep pitch type roof systems. We maintain traditional tar and gravel built up roofs, torch on, single ply systems (EPDM, TPO, PVC), liquid rubber, coatings, spray foam, standing seam metal roofing and industrial low slope metal roof systems.
Our experience in the Toronto marketplace includes all roof systems from the smallest to the largest in the province. Our customers include fortune 500 companies, national companies and local businesses.
Steps to take if you have a commercial roof leak: Commercial division 24 hours – flat roofing, metal roofing, any steep pitch type roof
Call our 24 hour roof dispatch call center to book an appointment for our roof repair techs to attend.
In many scenarios immediate emergency roof repair service is critical to keep operations going. If this is the case for your roof we can attend anytime of the day or night and on holidays and weekends.
After contacting us your primary priority is safety of staff and the public. If you are concerned about weight load on a flat or metal roof it is better to be safe than sorry. We can help you assess the danger of weight loads when you call our 24 hour call center.
If the water is damaging production materials or threatening important documents or equipment you may want to take immediate steps to re-route the water while waiting for our roofing experts.
If the concern is ice damming or ice falling off the side of the roof down to pedestrian traffic be sure to tape off the area with some form of emergency tape to avoid any injury.
For weight loads if you think the issue is that the internal drains on the roof are plugged or maybe the external scuppers or gutters then if it is safe to do so try and unplug the debris so the water runs off the roof correctly. Expert roofers – we maintain a lifetime workmanship guarantee on all roofing work performed.
If the problem is flashing related and there is a piece of flashing or a number of sheet metal flashing details blowing around in the wind it is critical to secure the flashing as soon as possible. Sheet metal blowing in the wind and coming off a building can injure or kill pedestrians.
If the leak is around a drain area and you can assess the area from the inside of the building you will want to see if the drain is connected properly to the plumbing on the inside. This is a common problem area.
For standard service calls that are not emergencies and are not safety hazards to staff or the public you will want to simply wait for our roof technicians to arrive.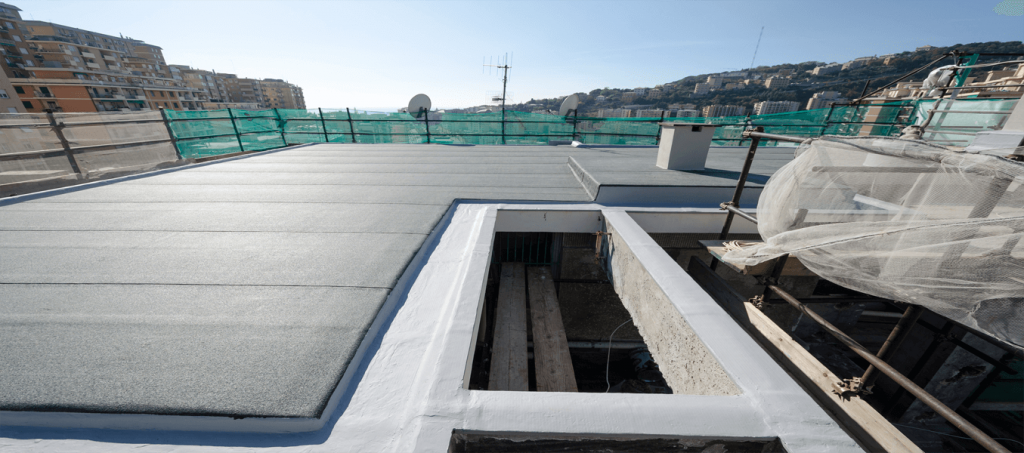 Roof maintenance considerations.
Maintain tar gravel, torch on, single ply systems, standing seam metal roofing, industrial low slope
Roof systems should be inspected at minimum two times per year. The two primary reasons are for public safety and it also just makes good financial sense to be proactive with costly roofing systems.
If you are going to have staff do the regular maintenance inspections then we can provide you with a check-list for them to use. If you are hiring us to do the regular inspections we will provide you with the inspection report, photos and maintenance recommendations at each visit.
Regular roof maintenance will save you money. Roof assemblies are expensive to replace and simple maintenance done one or two times per year will save your company a lot of money.
When it comes to business and commerce, of course, you'd want efficiency in everything. And with efficiency in mind, commercial roofing becomes your best choice. Make the most of every square inch of your commercial building. In addition, the energy-efficiency is remarkable as it assists your building's temperature regulation. A commercial roof is durable and easy to repair. Our team of experts guarantees you the best results on all your commercial roofing in Toronto projects.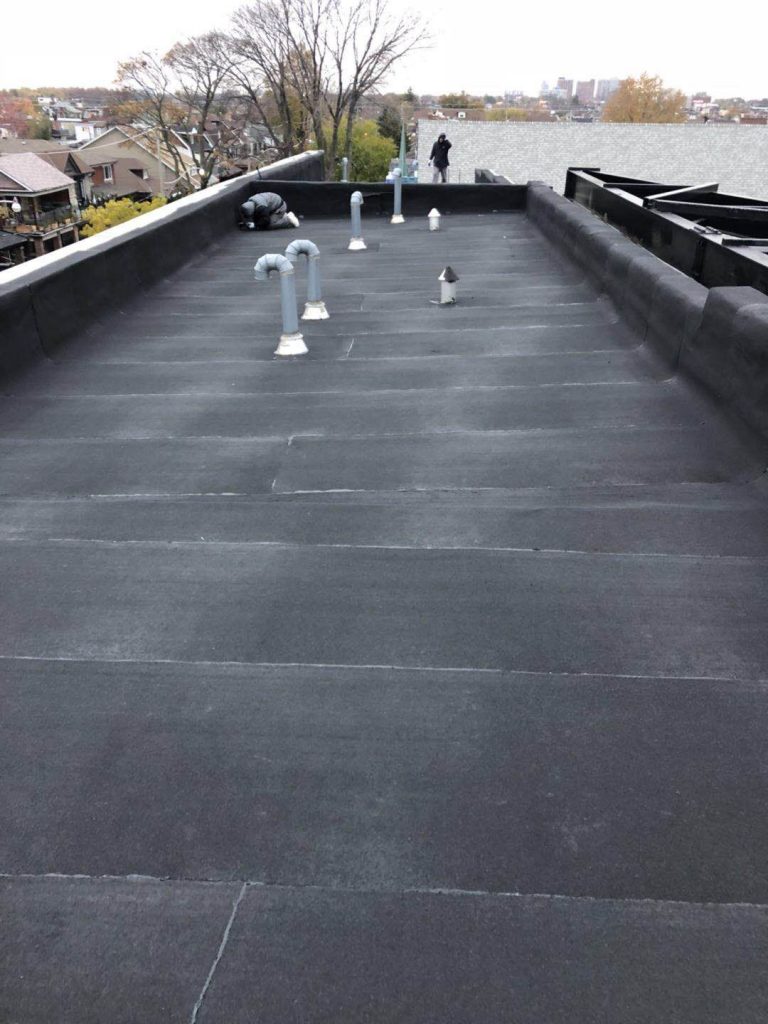 In addition to efficiency, a building's appearance also proves importance. Roofs provide protection and temperature regulation from nature's elements. But they also add to a building's aesthetic design. And having stylish designs for your commercial building can be good for the business.
Modern architecture calls for commercial roofing. The clean geometry of a commercial roof helps your place stand out. In most cases, there's also plenty of space for further redecoration later on, should you choose to. Our Toronto commercial roofing service can guarantee aid. Feel free to contact our Toronto commercial roofing service. Let Roofing Dade helps you with the design you would want.
Low slopes or entirely flat surfaces make commercial roofs so much more accessible. They require higher maintenance and involve more repairs because of their larger spaces. But that doesn't make a commercial roof any less useful.
Why Choose Toronto Roofer?
We serve every home and business with outstanding quality service. Expect expert level roof repair, gutter maintenance and windows installation when working with our company.
Our professional roofers are highly qualified, trained and certified to handle any kind of repair at your company or residential location.
Our reputation for outstanding and hardworking roofing expertise as well as helpful customer service is well known throughout the Minneapolis area.
We understand how hard it is to find safety conscious, experienced and certified professional roofing contractors.
We pride ourselves in excellent customer service by ensuring satisfaction of our clients. Communication is constant and expectations are clearly known. This sets Toronto Roofer apart from other roofing contractors across the state. Our roofers are experienced and knowledgeable with all types of roofing materials.
CALL US NOW if you want save a money before winter arrives! Repairs only get harder when the snow comes! We have developed an exclusive as well as reputable network of Minneapolis roofing contractors.
We use high quality products and provide outstanding roofing services at very fair prices. Don't be fooled by second rate materials being used in your project. You can't find a better value with affordable prices from other contractors in Toronto.
Our products are warrantied. This allows you to save a money by maximizing each and every dollar you invest in your home or business.
Our roofers provide quality workmanship with high-tech professionalism and experience that every customer deserves.
Our Toronto commercial roofing service makes ensure every material's cost-effectivity. Every square foot can be utilized and renovated with ease on the long-run. In addition, a commercial roof regulates temperature appropriately. It has a few factors to consider: the weight of the equipment used, for starters. Contact our Toronto commercial roofing services today, and learn more about the advantages of commercial roofing in detail.
Toronto Roofer services is proud to offer free estimates for all its new roof installations, roof repairs & restoration, re-roofing, and roof inspection services.
It is a well-known fact that on average 3% of the overall contract costs for a building are attributed to the creation and consequences of defects both within the construction phase and once the asset is operational.
Consequently, it is critical to get it right first time to ensure you maximize client retention and to protect your bottom line.
We can also act as an independent third party in the event of a dispute due to defects within the roofing system to provide independent support and advise.
Understanding how a flat roof has been installed and how it should be maintained or repaired correctly is paramount in safeguarding the longevity of the system to ensure that the day to day business is not affected.
Unfortunately, all too often the roof is out of sight and therefore out of mind, even if a management company is employed have they got the right experience with the right skill set to maintain or repair the roof correctly to prevent leaks and to comply with the terms and conditions of a guarantee?
Toronto Roofer can be your commercial roofing company and can offer or deliver the solution by providing commercial roofing services.
We can also act as an independent third party in the event of a dispute due to defects within the roofing system to provide independent support and advice.

Toronto business owners have trusted our certified commercial roofing contractors for their knowledge, experience and working within a budget. We're flat roof repair and gutter service experts. We have several years in business, a professional and reputable staff. Roofing service references available upon request.
If you're looking for the best commercial roofing company you have to consider several factors. Reputation, experience, certifications and knowledge. We've worked on any number of roof systems: flat roof, metal roof, tile roof and slate. Our expert roofers are all bonded, insured and SAFETY conscious. You can expect trained professionals that are qualified and will work professionally with you in budget and on-time
Toronto winter can be especially tough on our roofs. A commercial flat roof repair must handle extreme temperature swings and the expansion of ice packs. Commercial flat roof repairs are often necessary in spring after winter ice dam damage. Don't be sold a replacement when roof repairs are possible. Use the services of our certified commercial flat roof contractors to repair your leaking roof quickly and in budget. Don't risk the expense of hiring unprofessional roofers.
Worn out commercial roofs should be replaced when the costs involved in maintenance surpass the future savings from a new roof. It is a large investment to get a complete roof replacement whether at your home or business. Choosing a certified, licensed and professional commercial flat roofing company like us that stands behind their warranty, saves your home or business from unnecessary hassles and expenses later.
Please call Toronto Roofer today at (647) 847-8826 for more information.