Services
Toronto Roofer can provide you with a wide range of home improvement exterior services. Please read below to find out what Toronto Roofer can do for you.
New Construction
Toronto Roofer can help you in your search for the best colors and materials for your new home. We will provide you with blueprint reading as well as many different options available for the roof and siding of your new home. Give us a call for blueprint pickup.
Tear-offs
Toronto Roofer specializes in removal of old roofing and re-shingling. We provide quick service when it comes to removing old roofing. During most tear-offs, we have a crew of 8 to 10 professionals that will remove, clean up, and re-shingle your roof. Most tear-offs are complete within 2 working days (depending on size). At the end of each working day, Our crew will make sure your home is secure and covered in case of rain or other inclement weather. When it comes to roof tear-offs, Toronto Roofer has the most experienced workmen in the area.
Re-roofing
If your home has only one layer of roofing and you would like to put a new roof over the top, we can help. Toronto Roofer will come to your home and offer expert advice on whether or not your existing roof can be shingled over, or if a tear-off is needed. Furthermore, we replace all vents and in some cases, add more vents, if necessary. If you decide to have your roof completely shingled, Toronto Roofer will provide you with a variety of shingles and colors to choose from.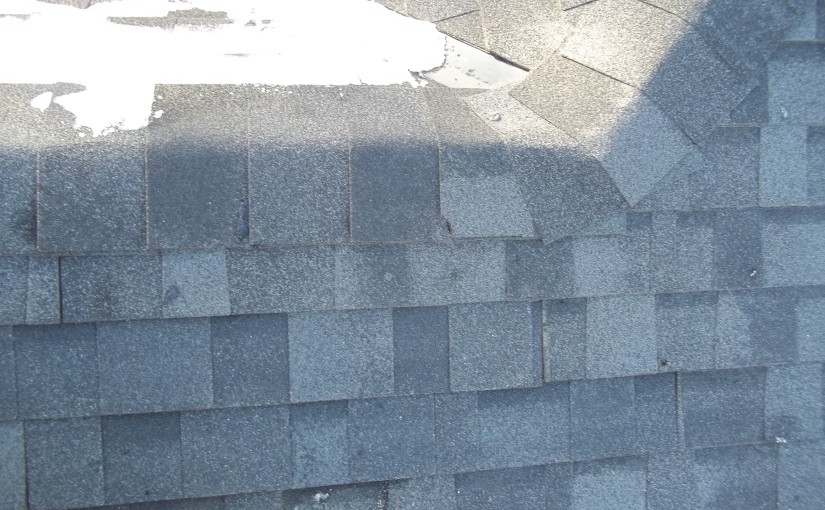 Repairing
Toronto Roofer specializes in repairing residential roofs. No roof repair is too small. Give Toronto Roofer a call for an expert opinion.
Rubber Roofing
Toronto Roofer can provide your flat porches and dormers with top quality rubber roofing. Rubber roofing comes in two different thicknesses, .45mil or .60 mil. The .45 mil comes with a 10-year warranty and the .60 mil offers a 15-year warranty. Give us a call… we can help you decide what is best for your flat roof.
Chimney Flashing
Toronto Roofer will install .032 aluminum flashings to match your roof color… offering customers a fresh, streamlined look for their home.
Chimney Rebuilds
Does your chimney need some help? Toronto Roofer can repair your brick or offer you an assessment for a complete chimney rebuild.
Inspections
Toronto Roofer can provide you with an expert opinion on the condition of your current roof, or on the roof of the home you are considering for purchase. All inspections will be conducted and put in writing for a cost of $50. Please note our inspections do not guarantee the home's roof from future leaking.
Insulation
Toronto Roofer applies only the best quality insulation to your attic. We use cellulose insulation made here in Wisconsin. Cellulose is made of paper and wood fibers, has an R-value of 3.5 per inch, and is 100% fireproof. We insulate attics between the months of November and April. Please give us a call for an estimate on your attic.
Siding
Toronto Roofer features the newest and most advanced siding products available on the market today. Some of the most popular are cement board siding, LP Smart siding and vinyl siding. Toronto Roofer can remove your old siding, install new insulation, and re-side your home to make your home more energy efficient… saving you money for years to come.
Questions & Answers
When should I replace my roof?
You should have your roof checked for drying and cracking if the roof is between 10 and 15 years old. Most shingles on the market today have a minimum 25-year warranty. Roofs wear differently depending on these factors: how steep your roof is and how much direct sunlight your roof receives. Having your roof checked sooner rather than later is best and may save you money.
What kind of shingle materials are available?
There are many different kinds of shingles on the market today and Toronto Roofer uses only the highest quality materials available. Some of the most widely popular shingles are the Owens Corning 30-year Oakridge or the Owens Corning Lifetime Duration. Please call Toronto Roofer to see our large variety of samples.
Is there a leak by my chimney?
Many roof leaks come from the chimney area. Most of the leaks are a result of flashings pulling away from the chimney. In most cases, this can be fixed by applying rubber silicon to the chimney flashing. In other cases, the flashings may need to be replaced.
Is there a leak in my valley?
The valley is the most important area needing complete protection on a roof. And, in most cases, the valley is the first area on a roof to wear out because of the amount of water passing over it. Some valleys may leak because they have been installed incorrectly. With regard to repair, some valleys can be replaced without having to replace the entire roof. However, with some valleys that are leaking, it may be a sign that your whole roof will need to be replaced. Please call Toronto Roofer for an expert assessment.
How many layers of roofing can I have on my home?
Toronto Roofer can give you a few different options of tearing off. In some cases, you can remove just one layer of roofing depending on the condition of the shingles. Give Toronto Roofer a call for an expert opinion.
What if I have wood shingles?
Toronto Roofer can remove all wood shakes and install new 1/2″ plywood to the roof surface. When removing wood shakes, new chimney flashings and gutter flashings will, most often, need to be replaced as well.
How long will it take to roof my home?
In most cases, your brand new roof should be completed within two days. This depends on the size of the job. When we begin a roof job, we continue work on that same job until it is finished. We believe in finishing the work we have started before we begin our next roofing project.
What if I need new gutters?
Toronto Roofer installs seamless aluminum 5″ gutters and 3″ x 4″ downspouts. We also provide leaf guards for our interested customers.
What if I need a new chimney flashing?
We can help! Toronto Roofer uses only the best quality chimney flashings on the market today.