Flat Roof Repairs in Toronto
Flat roof repair is a specific area of the trade that should be applied by certified roofing applicators only. Our accreditation for Toronto flat roofing is the highest available. We employ inter-provincial red seal journeymen – experts in the trade of flat roofing.
Our Toronto flat roof repair company offers 24 hour service province-wide.
We fix all types of flat roof systems including tar and gravel, torch-on SBS modified bitumen, EPDM (rubber roofing), TPO (thermal plastic), PVC (poly-vinyl), Liquid Rubber, DecTec, SPF (spray foam), various coatings and fluid applied systems, inverted systems, rooftop decks and balconies, metal and many more.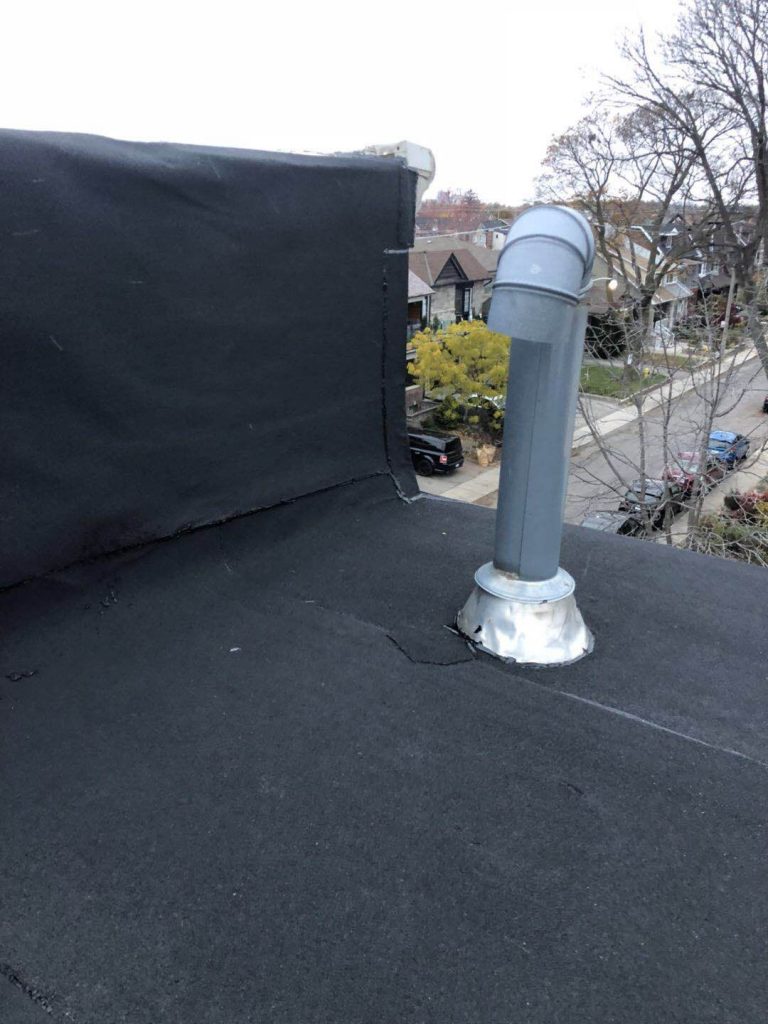 Contact our dispatch in Toronto at (647) 847-8826
We repair all flat roofing and all components of commercial and flat roof assemblies. Common repairs we perform are to roof membranes such as tears and blisters, flashing sheet metal, commercial and industrial eaves-trough and downspouts, drain replacement, re-sloping due to water ponding, retro-fits for rooftop units, roofing in curbs and sleepers, vents, replacing roof ladders and hatches and much more.
What to do if you have a flat roof leak:?
Flat roof repair – a specific area of roofing trade that should be repaired by certified applicators
The first step is to contact our 24 hour flat roof repair dispatch service so we can be sure you are scheduled in accordance to your priority.
If your flat roof repair requires urgent service we can attend 24 hours a day. Our operators and on-call manager can assist you in assessing whether it is a repair that needs immediate attention or a roof repair that can wait until the next business day.
While waiting for our repair technicians you can put out pails to catch the water to avoid any interior damage.
If there is pressure on the ceiling of your roof ceiling you can poke a hole to alleviate the pressure so that ceiling material doesn't injure anyone.
If it is winter time, and you think the leak may be a result of your gutters icing up and backing up in to the roof system you can attempt to remove the ice from the gutters in an effort to relieve the leak.
If you think the cause may be plugged drains, scuppers, eaves-trough or down-spouts you can tray and unclog them (if safe).
If the leak is over an area of concern such as electrical, over computers, over manufacturing goods etc then you can always attempt to re-rout incoming water until your roof is repaired.
For membrane breaches (tears in the membrane) you can always use a temporary caulking and the repair roofers will do a permanent repair when they arrive.
Flashing can be temporarily caulked and our technicians will apply permanent repairs upon arrival.
If you are concerned about the weight load on your flat roof do not take chances with this issue. Standing water and even snow and ice build up can cause a roof to collapse. You must either start pumping the water off the roof or shoveling snow and ice (only if safe of course).
A little about proper flat roof maintenance. Our accreditation is the highest available. Red seal journeymen experts.
Flat roof systems should be inspected by a professional twice per year.
Once in spring and once in fall right before winter.
Snow and ice damage through the winter will be spotted in spring before the rain season starts and in the fall any damage caused by UV or summer storms will be caught before the winter starts.
When our flat roofers inspect your roof each spring and fall they will bring forward recommendations for repair and maintenance work.
Failing to conduct flat roof inspections every spring and fall and following through with repairs will cause your roof life cycle to be limited to half the time on average. Flat roofs are expensive so this is a mistake to make. It is like putting oil in your vehicle and doing oils changes and the like.