Flat Roof Repair, Coatings, and Restoration
Technology has changed. Today's flat roof coating technologies allow for TORONTO ROOFER to offer highly effective flat roof coatings that perform extremely well, have relatively lengthy manufacturer warranties, possess tax deductible benefits that a new flat roof system can't offer, and are economically more feasible than traditional roof maintenance systems (the new flat roof coatings have excellent life cycle costs not available in past).
Flat roof coatings available today are an excellent, predictable solution for waterproofing new or old flat roofs (low slope roofs). TORONTO ROOFER has cool roof coatings ("reflective white coatings") and we also supply and install black rubberized flat roof repair and coatings (which are more commonly used in Canada). We have recently been installing a number of flat roof and metal roof coatings throughout Canada (early in the 2011 season) and we will be posting the process of those installations to our blog as soon as photos start coming in from the sites.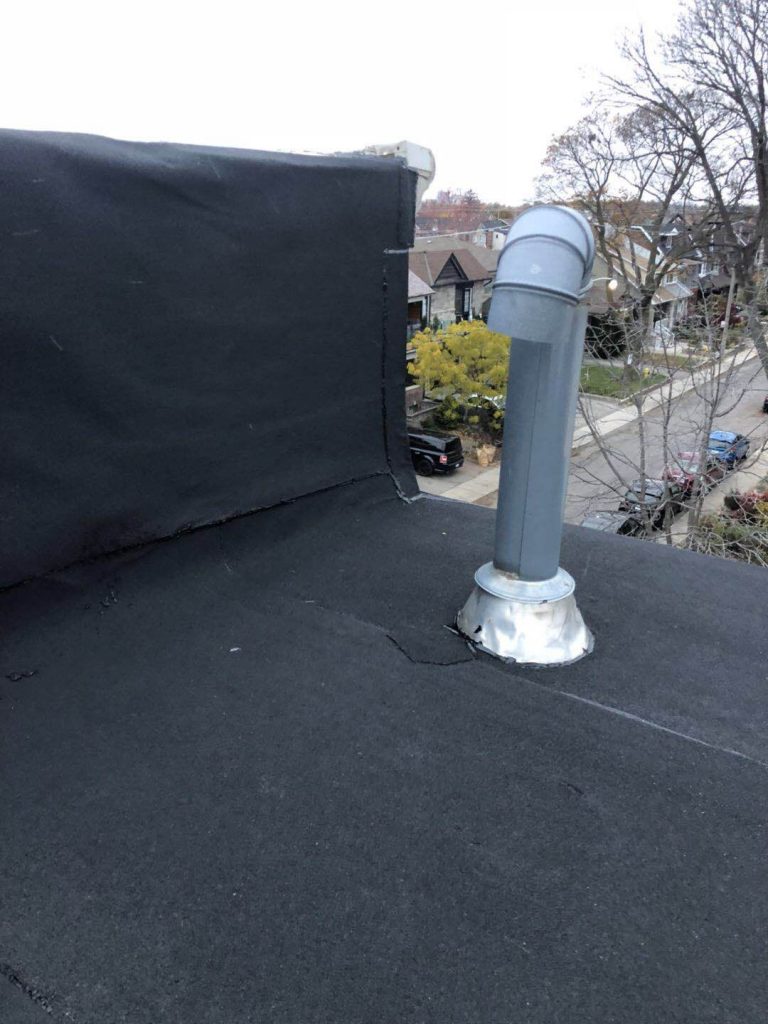 TORONTO ROOFER flat roof coatings are an excellent solution for flat roof repair over most aged flat roofing materials except coat tar roofing (in which case a roof recovery membrane system is better suited). As a side note, we can offer an "out of the box" manufacturer warranty on the new flat roof coatings that is 10 years, and on flat roof recovery systems 20 years is available from the manufacturer.
Technology in both categories of flat roof remediation or restoration has certainly changed in recent years. TORONTO ROOFER installs flat roof coatings over metal roofs (the photo above shows a metal roof coating in progress in Leduc, AB just south of Edmonton), BUR Tar and Gravel Roofing, Modified Bitumen SBS Torch Down Roofing, and Single Ply Roofing such as EPDM, PVC, TPO, etc.
Our flat roof restoration systems utilizing roof coatings allow our clients to avoid a complete re-roof tear-off; they complete the flat roof repair or restoration process faster; coatings lower flat roof maintenance and replacement life cycle costs; and roof coatings (or roof recovery systems) eliminate landfill costs.
Coatings are applied using a brush, roller, squeegee, and/or sprayers as required. The coatings cure quickly (set instantly and cure within 48 hours). With excellent advancements in roof coatings our client base has rapidly grown also, TORONTO ROOFER has many satisfied commercial and industrial clients that can attest to the remarkable advances in product deliverables in this particular segment of the roofing maintenance industry. We strongly encourage anyone with a flat roof or a metal roof that is seeking replacement, repair, or maintenance to look in to this excellent solution.
In addition to the new roof coating products being an excellent solution and alternative to complete flat roof or metal roof replacement, many of our flat roof coatings are green, environmentally friendly roof coatings. A few points of note:
They carry a 10 year roof coating warranty.
UV resistant.
Have tax deductible benefits as they are considered maintenance and not a new roof.
Coatings are cold-applied roof systems (no open flame is used on the roof).
Many of our roof coating systems do not contain any toxins or VOCs.
Highly elastomeric – in most cases are equal to or exceed 850% elongation with 95% recovery – that is a very elastomeric roof coating – they are able to adapt to surface movement and thermal changes like few flat roof solutions can.