What do you need to know about Siding Repair in Toronto
Although many improvements have been made in recent years regarding the quality and durability of today's popular siding products such as vinyl and Fiber Cement; frequently referred to as Hardi Plank, they still do require some regular maintenance to keep them looking good.
Nearly everywhere you look you will find vinyl siding on various buildings and many homes are now built with vinyl siding. If you have vinyl siding and it gets damaged, it can be repaired. You may be able to perform the work yourself, or you can simply call our office for a quick response to your problem. Our estimators will be happy to give you a quick and honest appraisal of the repair problem.
TIPS FOR KEEPING YOUR VINYL SIDING LOOKING GREAT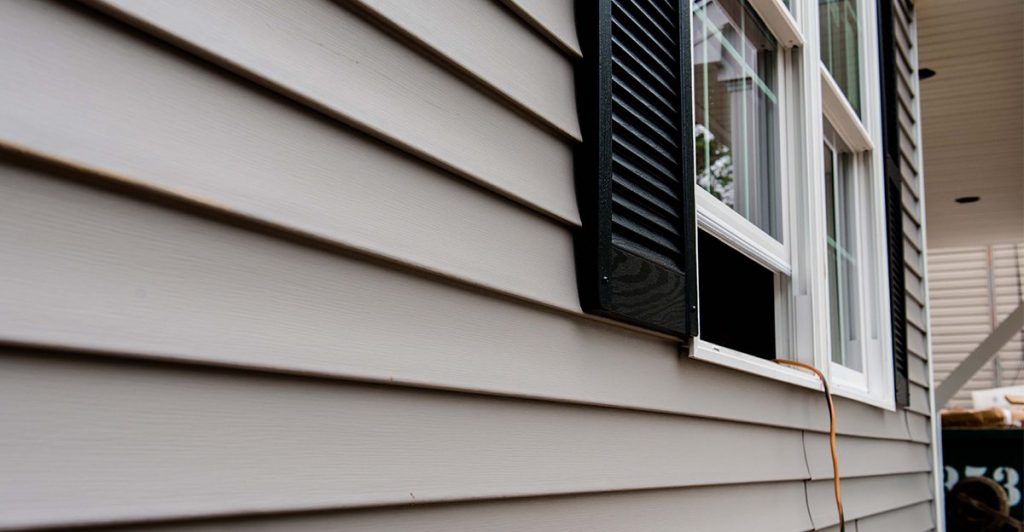 After a while, the vinyl siding that made your house look so good is beginning to look a little dull, however, you can restore that shiny new look to your siding with just a little cleaning. There are two schools of thought regarding this little chore, using either a pressure washer or hose and buckets. Both actually work fairly well, so we can talk about them both and see which seems best suited for your needs.
REASONS FOR CHOOSING A PRESSURE WASHER
The main advantage of using a pressure washer to clean your siding are that it works fast and it does most of the work, while you just direct the spray. The problem is that the pressure can drive the water underneath the siding through the seams and then moisture will begin to work on the lumber beneath the siding, which can cause mold and mildew growth underneath.
REASONS FOR CHOOSING A BUCKET, BRUSH AND HOSE?
The main reason for selecting this method is obvious, as it there is no water pressure drive water underneath the seams. The reason you might not employ this method is also pretty obvious. It is very labor intensive and requires a lot of "elbow grease".
Whichever way you choose to clean your siding, you'll need to do some prep work before you start cleaning.
BEFORE YOU START TO CLEAN YOUR SIDING
Use plastic to cover any light fixtures or electrical outlets and secure with tape.
To avoid injury, be sure and remove all patio furniture, bikes barbecues and what not away from the house.
Cover any plants or shrubs with plastic, but don't leave the plastic on overnight, or into the next day.
You can check any dark spots with household bleach. If the spot is mold, it will turn white, whereas dirt will stay black.
Get rid of any mildew using a mixture of 5 parts water to 1 part Oxygen bleach.
WORKING WITH A PRESSURE WASHER TO CLEAN YOUR SIDING
Fill the tank on the pressure washer with cleaning solution with a solution of mild soap such as dish detergent.
Start at the bottom and work your way vertically up the wall. Do not point directly at the wall, use a 45 degree angle and do not point directly around doors and windows which could force water around the edges.
Similar to the way you wash your car, use soap and then rinse a section at a time. Try not to do this in direct sunlight and do not allow the soap to dry.
WORKING WITH A HOSE AND BUCKET TO CLEAN YOUR SIDING
Make your own cleaning solution using liquid dish soap and water.
Start by spraying the wall with your garden hose and then use a long handled brush to apply your soapy mixture to the walls – make sure you start at the bottom and work your way up.
Just like with the pressure washer, wash and rinse completely, one section at a time.
Vinyl siding is practically maintenance free, but like anything exposed to the elements, over the years it will get dirty and need some cleaning.
HOW TO CARE FOR FIBER CEMENT SIDING
The main reason Fiber-Cement siding has become so popular is because it is so durable and it has the look and feel of real wood, while requiring less maintenance. Installing fiber-cement is more labor intensive than vinyl siding, and it requires a highly skilled installer. If problems occur that require repair, it will most likely be because of a faulty repair.
Recommendation – Prevent installation problems by hiring a qualified professional to install your fiber-cement siding. Installing fiber cement is a lot different that vinyl or traditional material.
Many bad installations are caused by not adequately prepping the home. We will ensure that your home is properly prepped and any insect or water damage repaired prior to installation.