A metal roof installation is a less expensive alternative than having a roof replacement completed.
Metal Roofing
Metal roofing on a residential project may or may not be installed on a high slope. If installed on a high slope, it is less likely to leak However, many industrial and commercial roofing systems are low slope. If a metal roof is installed on a low slope, chances are leaks will occur.
Why does Metal Roofing Leak?
Metal roofing expands and contracts with changing weather conditions, which causes the roof fastener holes to get larger over time. This is especially true in our unpredictable Canadian climate. Expansion and contraction of the metal causes the seams to expand and contract which can cause leaking as the seams become less crimped or locked over time. Ice damming and snow loads can also cause metal roofing to leak. Ice damming can even back up at the eave of a metal roof, especially if there is a gutter system that is frozen solid. Ice damming can move roof vents or various roof openings enough to cause a leak. Snow loads can weigh down metal roofing so much that seams become more exposed. Caulking of roof vents and roof openings become brittle and crack over time which can also cause leaks.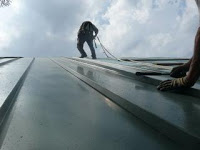 Metal roofing will also trap moisture on the underside, causing condensation that will eventually result in a roof leak.
Metal roofing is a watershed product, not to be mistaken as a waterproofing product. Waterproofing is a completely different discipline in roofing. Metal systems are inherently designed to be secure yet will eventually leak.
Metal roofing is one of the best roofing systems you can purchase in the world. It will outlast most other roofing surfaces. However, there are some exceptions that will last longer, such as: slate roofing, rubber roofing, concrete tiles, synthetic tiles. Nonetheless, a metal roofing is undeniably one of the longest lasting roofing materials in the world.
What separates a roof that lasts fifty years and a roof that lasts twenty years is the quality of roofing material, the metal roofer's installation specifications, and proper maintenance of the roof over the years.
Quality metal roofing costs more than the less expensive versions. A lower quality, less expensive metal roof may only last fifteen or twenty years. whereas a metal roof that is installed using a higher quality will last fifty years. In either instance, if the metal roof is installed poorly, a fifty year metal roof may only last a year.
A metal roof installation needs to be precise and needs to allow for the fact that it is a watershed and not waterproofing material. By its nature, a metal roof watersheds, therefore it is expected to eventually leak. Whether that leak will affect you is determined by a number of variables such as hidden fasteners that provide more protection than exposed fasteners, using locking panels, using a steep versus a low-slope system, and a premium roof underlay beneath the metal roofing material.
Metal Roof Installation, Replacement, Repair, or Restoration. What's the Answer?
There are a number of ways to avoid the problem prior to needing to replace a metal roof. We won't go in to those ways in this article, as this article is to assist those wanting to explore avenues of metal roof restoration, repair, or replacement.
Toronto Roofer will typically suggest a few answers to your metal roof leak problems:
Metal roofing Maintenance
Maintenance should be conducted on an annual basis. Caulking made for metal roofing is available and should be re-done every fall. Be sure gutters are kept clear during the winter. DO NOT let your gutters freeze up as this will cause problems with your metal roof. Also, snow loads are important; try your best to maintain a reasonable amount of snow on your roof. If possible, keep the snow off.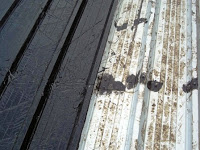 Metal Roofing Repair
Metal Roof Repairs usually involve maintenance such as caulking, replacement of vents or some form of sheet metal fabrication for a detail on the metal roof. If the roof leak and subsequent repair isn't focused to a specific issue, but is more of an intermittent leak issue, then you are likely best looking at a metal roof coating or a metal roof replacement.
Metal roofing Coating
metal roof Coatings were once looked at as a short term solution.
New coating technology is extremely successful, long lasting, consistent, and has finally solved the roof expansion and contraction problem.
Liquid rubber polyether roof coating technologies are solvent free, maintain 900% elongation, UV resistant, bond to almost any construction or substrate, liquid cold applied, elastomeric, great for green roof applications, 100% solids and will not shrink, they are compliant with all known environmental requirements, resistant to thermal shock and slumping at high temperatures.
The first benefit of coating a metal roof vs. replacing your roof: Metal roof repair, or coatings, are considered maintenance and as a result are a tax deduction.
The second benefit of metal roof coating in today's market is that the new liquid rubber coatings are highly effective, even more so than most new metal roof systems. The new liquid rubber coatings are highly advanced (developed as a result of nanotechnology) and the elongation values are in the order of 900% and are UV resistant. The roof coatings move with the expansion and contraction of the metal roof and keeping it waterproof.
The third benefit of the new metal roof coatings is that a roof coating will cost you about 1/3 to 1/2 the price that a new roof replacement would.
The final benefit to coof coatings worth mentioning is that the new liquid rubber polyether technology last several years. We have a ten year warranty with an option to extend to twenty years in some instances (requiring a maintenance coat at 10 years typically).