Recent Projects
We base our work based on the following principles: Provide the highest quality job with attention to detail for a...

We Provide the highest quality job with attention to detail for a fair price.

We Use only the highest quality products with the best warranties.

With Toronto Roofer you will have every question answered and will never be left with an "I'm not sure, I will have to ask the installer."
We focus on residential and industrial roofing, siding and decks in Toronto.
We are proud to state that Toronto Roofer is one of the first roofing firms to offer Eco Friendly Roofing Services.
Our 1st priority is securing your family's roof.
Our staff have years of expertise in the roofing business and are trained whenever new roofing products are introduced in the roofing market. We attempt to keep current with the new energy eco friendly roofing products that emerge in the market.
Being a home owner you would like the maximum amount of info possible for your Toronto roofing project. We understand that your roof is the foremost important safety element of your property. Contact us for any new Roof Installation or any Roof Repairs Services in the GTA area.
Roofing Coupon
Get $500 off of Your Toronto Roof Installation.
Offer Available for First Time Customers Only.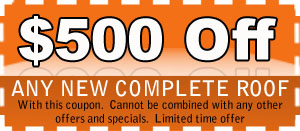 Testimonials
Last year I called Toronto Roofer on changing my roof. I met with Nick and I was very impressed with his hands on knowledge, very personable, he was very upfront and not pushy and provided a competitive quote

Oakville

We thank you for all of your effort and encourage you to keep us in mind if you have a prospective customer who would like a reference - we would be more than happy to speak with anyone regarding Toronto Roofer.

Barampton

Just a short note to tell you that your employees are courteous and hard workers.

Markham

They were fantastic....the job was extremely well coordinated, the workers were skilled, tireless and very qualified.

Toronto

We highly recommend this roofing company and are very pleased to have chosen Toronto Roofer for our roofing project.

Scarborough