Emergency Roof Repair
Few local roofing companies are equipped and qualified to handle any emergency roof repair scenario 24/7 365 days a year anywhere in Ontario. We service Toronto, surrounding areas and all of southern and central Ontario.
We are proud to offer our Toronto inter-provincial red seal journeymen roofing repair expertise anywhere in Ontario 24 hours a day on any roofing system you may have. Residential, Commercial, Industrial or otherwise.
What to do if you have a roofing emergency?
The most important is to call us as soon as you can so that we can get your roof repair in the queue.
In some instances your roof repair may be urgent simply to keep business operations running in compliance with health and safety. For example, many restaurants rely on us to keep them running with-out temporary shut downs. Call us and we'll respond quickly.

Other immediate roof services we often respond to would be storm damage calls. A common urgent roof repair can be due to flat roofs that are not draining properly and filling up with water – obviously causing a safety danger. If you can, check the roof drains and scuppers to relieve the weight of water on the roof. If not, we will be on-site quickly to assist.

Also with flat roofs it is also common in Ontario for the snow and ice to cause significant damage or become to heavy for the roof to handle.
Other storm related roof repairs common in the Toronto area are flashing that has come loose or is dangling in the wind. In highly populated areas this is of significant concern because flashing can injure people if it becomes air-borne. Do your best to tape of the area with danger tape or some form of highly visible tape until our emergency roofers are on-site.

Another type of urgent service needed is water ingress in to a building. Water coming in to control rooms or in to manufacturing facilities for example needs to be stopped quickly. Even water coming in to your home needs to be stopped as soon as possible to avoid considerable damage to the interior of your home. Do your best to catch water with pails and for any water on walls or on floors do your best to mop up or towel dry those areas.

When you speak to the on-call supervisor for urgent dispatch you can always explain your specific situation and he/she can advise you over the phone as to what you may or may not want to do to alleviate the issue while our crews are en route.
About our emergency roof repair credentials:
We service a number of national and international companies. Every-day these corporations trust us to keep their facilities running with-out issues coming from their roof assemblies.
We have been serving Toronto emergency roofing for many years and over that time we have assembled a top notch team of red seal roofers that can repair any type of roof system.
We are insured for open-flame work and maintain an impeccable record.
Our roofers are highly trained and experienced. They also work under one of the most stringent safety programs in the industry.
We have a workmanship guarantee on all our work.
We are registered in good standing.
Our trucks and roofers are equipped, certified and in compliance for the largest commercial and industrial sites in the world.
In Need Of An Emergency Roof Repair Company in Toronto?
You, or someone you know, has a need for a Emergency Roof Repair company. It may be due to excessive amounts of loose shingles or possible water damage. Or, you may need to do your annual roof checkup to be sure that hail, windstorms or snow and ice damage hasn't caused the nails that affix your shingles to the roof deck to pop out. Regardless, you need the best Emergency Roof Repair company to look after your biggest investment – your home.
Finding the ideal Toronto roofing company doesn't have to be chore. You need a local company that can be held accountable for the services they provide. You need a company you can trust. That's where we come in. We have more than a phone number to call – you can walk into our local office, and our professionals are always available to address your concerns.
For years, we have actively improved the standards of quality service in the Toronto roofing industry. All of our professionals have completed extensive training to provide you with the best service possible.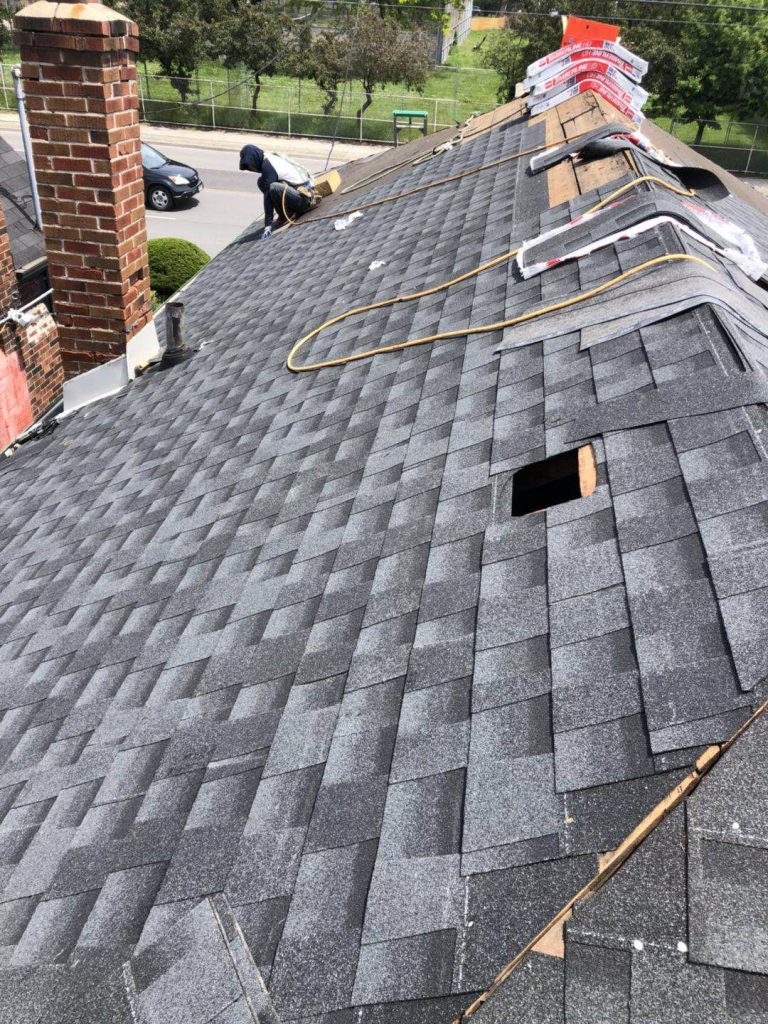 Customer satisfaction is our number one priority. YOU are our number one priority.
Reasons you might need an Roofing company:
Excessive Granule Loss.
If you're able to notice small piles of black or gray granules inside your rain gutters or accumulated in your downspouts, this can be a sign your roof's shingles have failed or reached the end of their life-span.
Loose Or Missing Shingles.
Wind and Hail storms along with snow and ice damage could potentially cause the nails that attach your shingles to the roof deck to come out, leading to loose or missing shingles.
Water Stains On Roof Decking.
If you're able to gain access to the unfinished section of your home's attic, examine the bottom of your roof decking. If you notice signs of water stains, it reveals a roof leak allowing water to run beneath the shingles.
Shingle Pops.
Roofing shingles that look as if they rise above the flat surface from the rest of the roof could mean impact damage from hail, but additionally they can also indicate inadequate attic ventilation. If attic temperatures exceed 120 degrees, shingles can blister, which appears identical to hail damage.
Damaged, Loose-Fitting Or Worn-Out Flashing Or Gaskets Around Vent Stacks And Chimneys. Any place in which roof shingles connect or abut protrusions carries a greater odds of failure compared to the entire roof system. Poorly applied or failed caulking or flashing can result in roof leaks.
Roof Age.
Combined with the scenarios mentioned above, knowing the age of your roof is significant for determining whether or not you ought to invest in repairs or even a roof replacement. Most roofs are built to last around 25 years at the most, so if your roof is approaching age 20 or more, keep a close eye on its condition and be ready to replace it.
We have won many prestigious awards within our industry for the high-quality services we provide. We are also a consumer favorite with many repeat customers, and we have continued to maintain one of the highest customer satisfaction ratings in the Toronto roofing industry. We understand you are the driving force behind our success.
We feel every company should always follow the highest standards in quality. As a leader in the Toronto market, we have taken further steps in producing five-star service by using only the best products available. Our premium services are always provided along with premium products.
We are a fully-accredited service for the greater Toronto area. Our company is licensed, bonded and insured, and all of our associates are fully-trained. You should never use an unlicensed or uninsured company.
What makes us different?
We are the leading service provider in the Emergency Roof Repair services in the greater Toronto metro area. Our service continues with complete customer service before, during, and after your project. In fact, we are so confident in our abilities, we provide a full satisfaction guarantee. We even offer FREE estimates to evaluate your job. How many other companies can say that?
As a local company in the Toronto metro area, this is our home, too. All of our employees live in the local area. We spend our time and money at the same stores and restaurants that you do. We even support the same local charities and events that you sponsor. With over 20 years of service in Toronto, we are already a part of the community, and we treat you like family.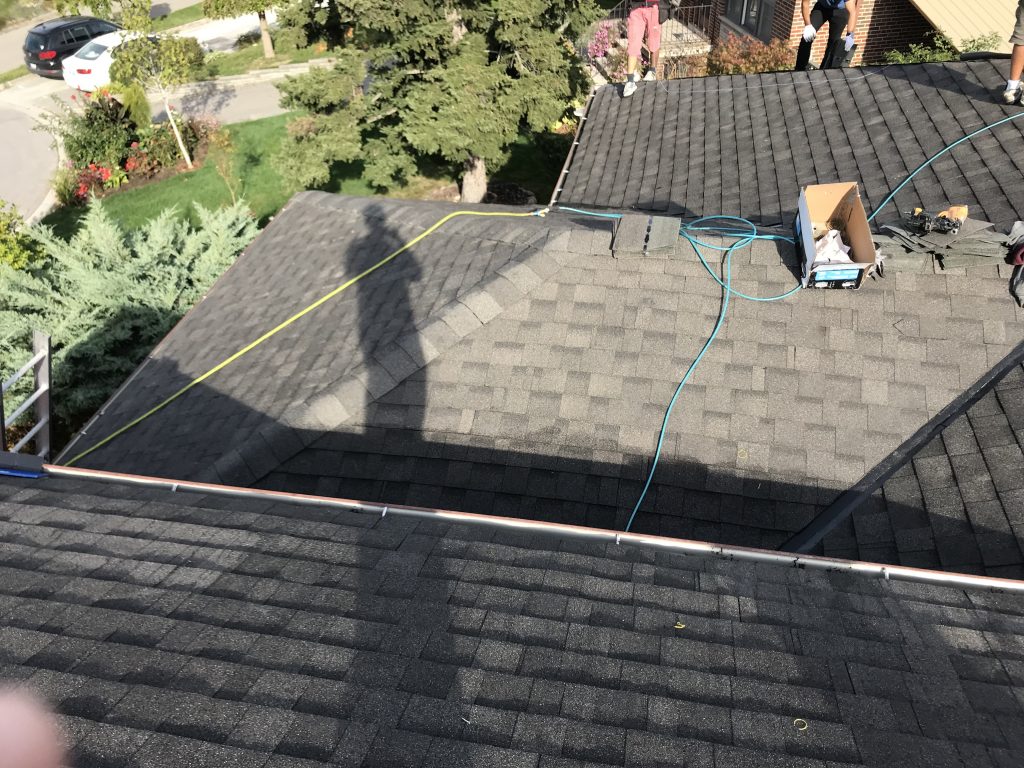 As concerned community leaders, we have taken steps in protecting our planet by using green and evergreen technology when available. We also participate in local recycling programs. Every effort put forth by our community helps in reducing our carbon footprint.
What next?
Call us today for a no-obligation consultation and get a FREE estimate. No one knows the business like we do. With an unmatched satisfaction guarantee on all of our work and highly trained professionals, what do you really have to lose? We are eager to answer any of your questions and look forward to making you a customer very soon.
We are the local emergency roof repair company in Toronto that takes pride in servicing our home – the greater Toronto metro area. We're not just professionals – we're also your neighbors. Contact us today at (647) 847-8826