Survey of the Commercial Roofing Process
Maintenance, Restoration, or Replacement?
When reviewing the process of commercial roofing, the first step is to decide what method of roofing is required. Of course, there will be decisions in regards to the metal used, yet this all depends on whether or not you have a flat roof. For example, you may be looking to repair your roof, perform annual maintenance, completely replace or restore your existing system.
Repairing Your Commercial Roof
Commercial roofing repairs are best done by a roofing contractor that complete repairs on a daily basis and who is aware of all the commonly accepted standards. TORONTO ROOFER employees are highly trained to work with all varieties of commercial roofs; our crews undergo extensive training that help them to assess and repair any and all issues. Flat roof repairs are specific to the type of commercial roof such as; Tar and Gravel, Torch-on SBS, TPO, EPDM, PVC, Roof Coatings, or SPF – Spray Foam. It is important to have roofers that are aware of the type of commercial roof membrane that is being repaired.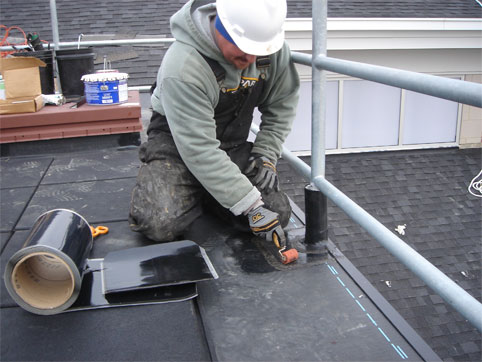 Metal roof repairs on commercial buildings are also type-specific. These common types are are metal cladding roofs, standing seam metal roof systems, and coatings with a reflective coating or black rubber liquid coating.
The objective is to locate a commercial roofing contractor that has technicians with the knowledge of all commercial roof types.
Preventative Maintenance
Commercial roofing systems require regular maintenance. In most instances maintenance on a commercial roof (flat roof) should be completed a minimum of twice a year. It is recommended to have this completed once in the fall and once in the spring. TORONTO ROOFER has specific commercial roofers that specialize in roof maintenance. Our roofers are aware what to look for and how to solve specific commercial roof problems. Our web site contains a step by step list for commercial flat roofing repair and maintenance:
Metal Roof Maintenance
Metal commercial roof systems also require regular maintenance. Maintenance should be performed on all the metal seams, metal roof fasteners, and roof openings. Sometimes this only requires a simple process of caulking (be sure to use high-end metal caulking). Yet with scenarios, when the metal roof is beginning to fail due to rust or expansion/contraction of the metal seams and holes for the fasteners, more extensive roof repair or roof restoration becomes a necessity. This is another area where it would be beneficial to have type-specific contractors completing the work.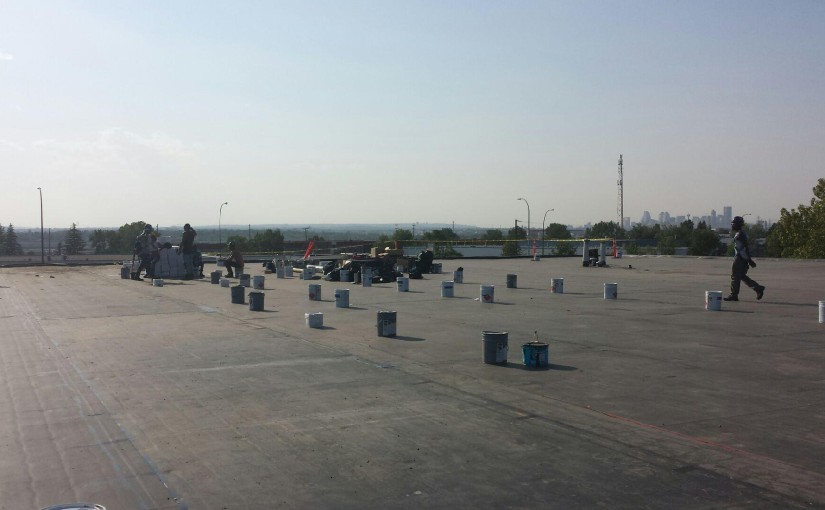 Our roofing blog has numerous articles regarding metal roofing, metal roof repair, and metal roof restoration. Simply search your topic by category on the left hand side of the page.
Roof Restoration
Restoring Your metal or flat commercial Roof when regular commercial roof repair and maintenance doesn't alleviate the problems you are experiencing with your metal or flat roof, more extensive restoration is required. One significant advantage of restoring your commercial roof rather than replacing it is the tax benefit. Roof restoration is considered maintenance and not typically considered a capital cost as it would with a complete roof replacement.
Metal roof systems are filled with challenges, especially in colder climates. For example last winter, the snow loads were so immense with the ice damming on the metal roofs, as well as the heavy weight loads, that several metal commercial roofs were affected. Our metal restoration crews have been working nonstop since last winter to repair and restore metal roof systems on numerous commercial and industrial facilities. The advantage of having a metal roof on your commercial facility is the longevity of the material. Metal roofs are known to last several decades before requiring full replacements.
The inherent challenge with commercial metal roofing is that the metal expands and contracts. This is especially true in our unpredictable Canadian climate. Unfortunately, many leaks occur as a consequence.
When thinking about restoring a metal roof it simply comes down to two things. First is whether or not you would want white reflective metal roof restoration, or do you want a black roof?
In today's market, there are several advancements to metal roof coatings. One primary example would be the liquid rubber polymers that were created for waterproofing commercial metal roof systems.
The challenge with reflective coatings for metal roofs is that coatings such as acrylic, which are highly reflective, also contain the disadvantage of cracking and peeling. The important items to be considered when choosing a restoration process or coating for your commercial roof is to be sure that the roofing contractor you hire is experienced and knowledgeable as to what is required. It is also important to inspect the coating material being used on your commercial roof. This is important due to market factors drastically changing over the past few years.
The same applies for flat roofing as it does for metal as we described above.
Coatings for commercial roof systems in this day and age have radically changed as restoring a flat roof today is not the same it was 3 years ago. At one time (and we still restore tar and gravel commercial flat roof this way), we would re-coat flat roofs with bitumen or tar from a hot kettle. Or in the case of a rubberized asphalt commercial flat roof, we would re-coat with hot rubberized asphalt.
Commercial roofing today has many more options. More recently many commercial property owners have been having roofing contractors spray foam their roof systems. With this process you skirt around the entire old method all together. Once the spray foam has been laid down you then add an acrylic reflective top coat to the SPF.
The process of spraying foam over an existing commercial roof is highly effective and cost efficient – although this isn't always the best method for an extended amount of time. There are coatings that are asphalt based that contain fiberglass that can be used to coat roof systems and emulsions. And then more recently elastomeric coatings have become available. This newer type sprays right over top of the existing system. Finally, the most recent to come forward on the market is liquid rubber coating. Liquid rubber coating has been an excellent success for both roofers and owners alike.
Roof Overlays or Retrofits
An example of a roof overlay or retrofit is when your current commercial roof system has a tar and gravel roof. Instead of coating the roof and completely ripping out the roof and replacing it entirely, you can retrofit or recover it. There are many forms of flat roof recovery. One method is for our roofers to scrape or spud the gravel off. Our roofers will then install an insulation board and the roofing membrane right over top. For more information on retrofitting you can reference our blog and website.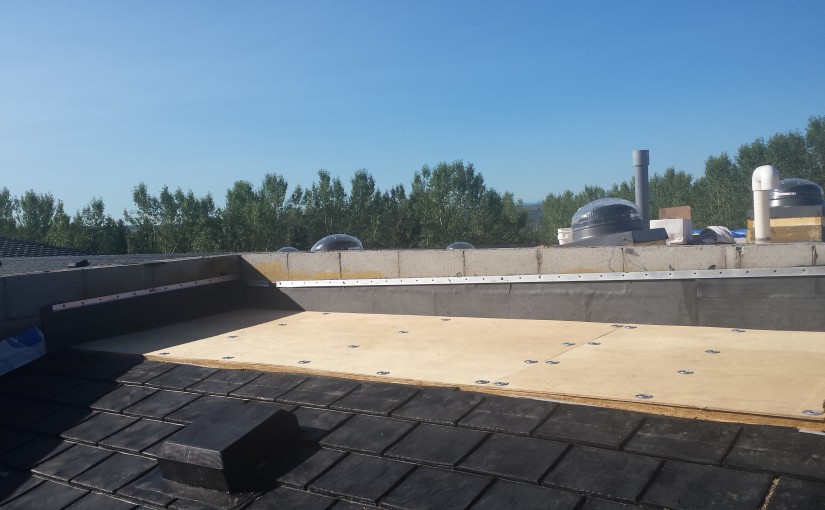 Complete Roof Replacement
Complete roof replacements are a massive undertaking. In order to have this procedure completed correctly it is extremely important to choose the right contractor for your project. The contractor you choose must have roofers that are trained and have accurate knowledge of all roofing systems. In addition to this you will need to choose the right method of roof replacement or retrofit. Once you have done that, the next item to select will be the right membrane and search out a reasonable competitive price.