Below is a shingle installation and purchasing guide for storm nailing shingles, high wind rated shingles, impact resistant shingles, roofing underlayments and installations for shingle blow-offs, shingle installation placement for storm planning, and caulking shingles (tabbing) for high wind shingle applications.
High wind shingle roofing is different than normal shingle installations. Most installers do not plan for high winds, as most roofing installations are just fine without specific planning. Toronto Roofer installs every roof assuming high winds and rainstorms (as well as ice, snow, water, ice damming, etc.).
The first consideration is the roof underlayment you use and how you install it. To summarize, roofing underlayment must wrap the complete roof deck. It must also run up all verticals and wrap all roof penetrations. Ice & Water peel and stick membrane has to be installed at the eave edge and in valleys in and around roof openings. Tar paper does not withstand storms, so synthetic roof underlayment should be used instead for the deck field area.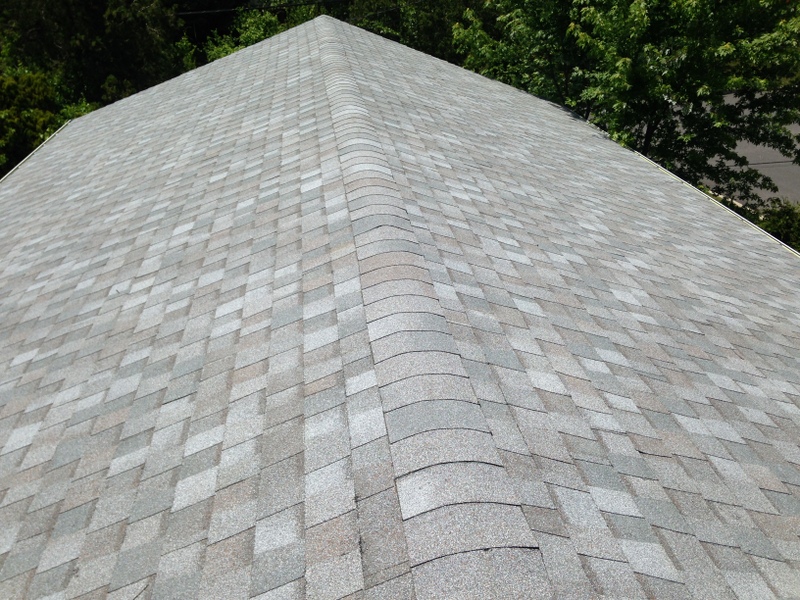 The Best Roof Shingles for High Winds, Hail, Ice Damming, and Rain Storms
IKO Armourshake is a fantastic shingle for high wind areas. It is heavy and has an out of the box wind warrant of up to 177 km/h. IKO also offers an extended warranty option of up to 210 km/h. Armourshake is so strong it has a UL 2218 Class 4 Impact Rating! It looks great, and our technicians say the system installs well. While our clients also remark on its street appeal, the only complaint that they have had with the Armourshake is the pattern of roof when it is installed isn't as random as some like, while others like a more uniform pattern.
Another great shingle made for high wins are the BP Shingles. They have a wind warranty almost identical to the IKO ones, as well as a Class 4 Impact Rating. The main difference between the two is that IKO maintains a 15 year "no grief" type warranty, while BP 's is 10 years. All the limited lifetime warranties that manufacturers are offering are complicated. From our perspective, the more unconditional complete replacement front-end warranties are the most important.
Some other shingle systems we recommend include the Certainteed Presidential TL and the GAF Grand Canyon.
The Best Caulking for Shingle Installations
Karnak is by far one of the better caulking materials roofers can use. It is rubber-reinforced asphalt and doesn't break down like typically black jack-roofing tar caulking.
For high wind application, tabbing is required under each shingle. Three to four dabs of caulking to the underside of each shingle will assist with high wind shingle lift tolerance.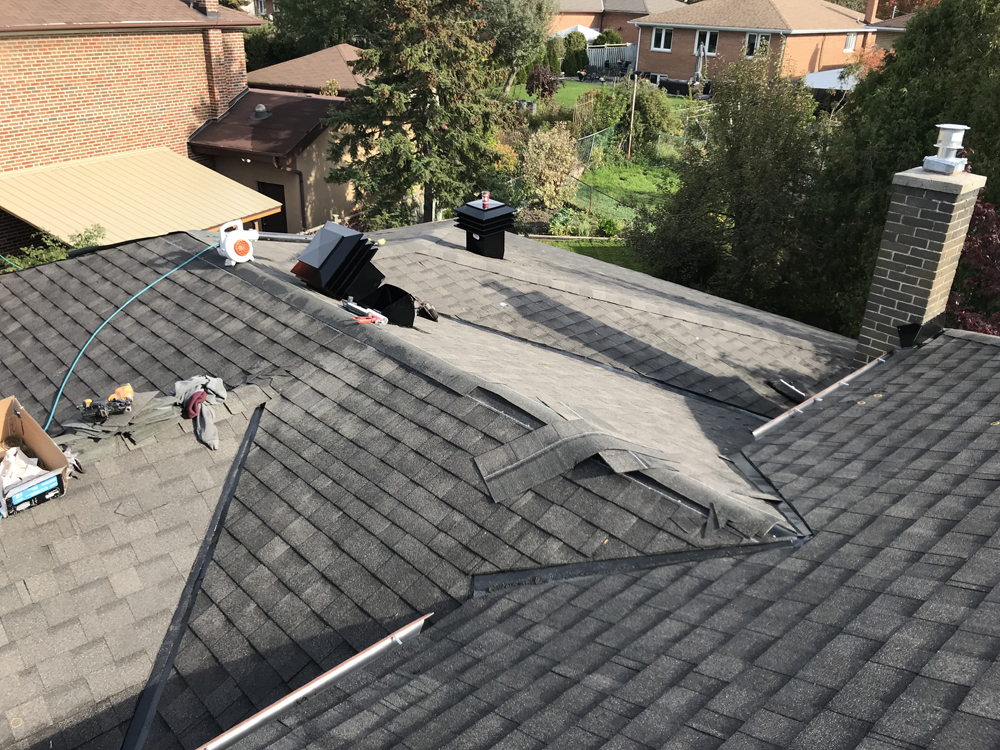 In terms of technique, it is necessary to caulk valley flashing metal prior to installing shingles in the valley. This entails a consistent bead of caulk from top to bottom of each side about 2 in. in from the chalked in. Next, caulk the underside of roof penetrations such as roof vents, goosenecks, etc. Caulking the chimney backpan and skylight backpan prior to the shingles being installed will help storm planning, especially ice and water backups & leaks.
Finally, caulk the first row of starters, as well as all of the shingle capping.
Storm Nailing Shingles (Shingle Fastener Installation for High Winds)
Toronto Roofer storm nails every roof and follows almost every precaution for high wind planning. We use six nails per shingle instead of four. The nails must be as low as possible and be in the double laminate strip or on the shingle nailing line (depending on the technology). A nail that does not hit the double laminate portion, if there is one, is a nail that has no value. We have our shingle installers storm nail for peace of mind. We don't make a profit returning to fix our shingle installations.
Also, the nails (or fasteners) on the outside – so the first and the sixth nail fastened – must be within one inch of the end of the shingles. We are critically "OCD" when inspecting our shingle roof installation on this point. The nails on either end are critical.
The nails or fasteners must lay flat and be driven right in and flush with the shingle. A fastener that isn't straight is a deficiency and won't help in high winds. The nail head will also eventually break through the next shingle installed, which is obviously no good.
Our exclusive specification calls for the removal of every nail from the roof deck prior to installation, because simply hammering down the hold nails of the new shingles just gives the new fasteners a reason not go to straight in. Not to mention the fact that any nails simply hammered down can work their way up during roof shingle installation and cause all manner of issues with roof water tightness.
High Winds and the Laminate Sealing Strip on Shingles
Do not install shingles in cold weather if there is any opportunity for high winds in the area. The weather must be warm, and the sun strong enough, to activate the sealing strip on laminate shingles. The sealing strip on laminate shingles is definitely a lifesaver when it comes to high winds and whether or not your shingles blow off.
The Placement of Shingles for High Winds
The Toronto Roofer specification for shingle installation in high winds (AKA every roof for us) calls for the strip on double laminated shingles to be lowered from 1/16 to 1/8 of an inch. No shingle manufacturer we know of mandates this and many shingle professionals will argue its merits, but we see it as simple wind dynamic engineered as works (which is likely one of the many reasons we are installing for engineers, architects, and designers all the time). Getting back to the point, installing shingles lower causes more shingle material to be installed and it is a little more costly as a result. However, it increases shingle wind resistance. Try it and you will see.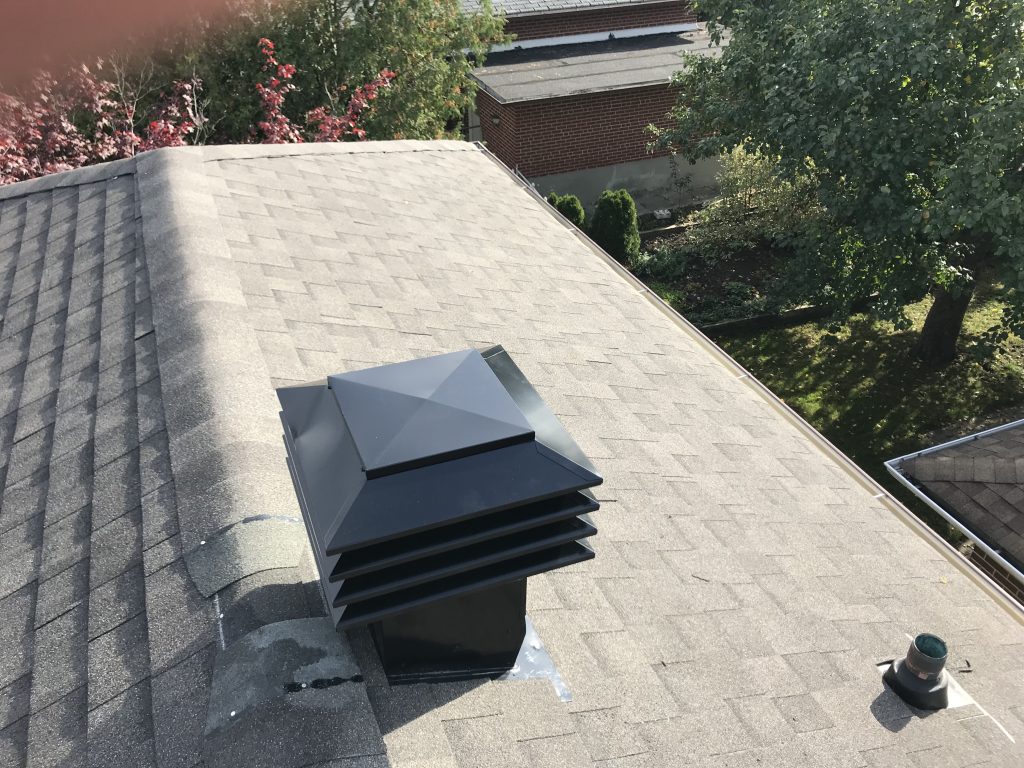 Essentially, the premise is that more of the shingle below is covered (less expose = less opportunity for shingle wind lift) – lift resistance is important. More than that, the double laminate strip almost acts as a natural "break point" for the shingles to snap in high winds. To test this, install your laminate shingles as usual, and before the shingles seal in the heat slowly lift it up until it snaps. It will always snap at the double laminate strip. Lowering your shingle rows 1/8 of an inch gets the shingle above to hold down the shingle below before the break point at the double laminate. You'll have to try it to understand. Anyways, this practice has lowered our shingle blow-off issues at least by 10 to 1, so we use this method for every roof.