Repairs to metal roofs are quite often due to metal seams expanding or contracting, screw holes that have expanded over time, or roof penetrations that are improperly flashed.
The first step is to assess the repairs from a repair or remediation perspective. Some high end caulking, underlayment, and flashing knowledge is required. We use a journeyman that can assess the conduct the repairs to this end.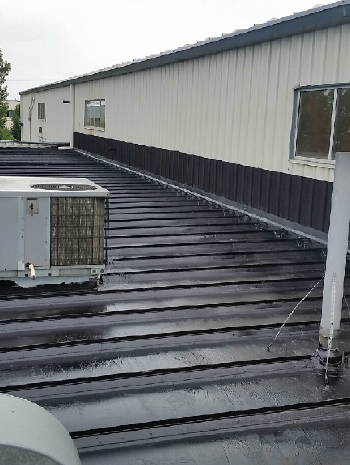 Once the repairs are done, you may have to consider one of the many options in metal roof coatings if your roof is low slope or irreparable.
Flat Metal Roofs – Low Slope Roofing Considerations
A roof coating or restoration will likely be required in addition to the repairs, especially if you have a flat or low slope system. We often service these types in commercial and industrial facilities.
Flat roofing is more difficult as "waterproofing" becomes key. A high slope roof can be looked at as a "watershed", so are a little easier in terms of this type of maintenance.
There are many different options for metal roof restorations/roof coatings. A proper metal roof restoration, with the right people doing the application coupled with the right materials, should get you (conservatively) about ten years or more out of your metal roofing system. As well, a high quality coating will cost you about half the price of a brand new metal roof. In the meantime, you will have another decade free to plan for your roof replacement when it has reached end of life.
The reason a roof coating or restoration is typically required when you have run into metal roof issues especially flat ones) is that the issues are most often installation or design issues that cannot be permanently fixed. Any fix we do to mitigate a roof leakage, for example, will most often be temporary repairs.
For more information on roof coatings, flat roofing, industrial and commercial coatings, and metal roof systems, visit our website for roof repair and re-roofing information. At the top of the main page you will find links that discuss various issues, repairs, systems, hiring contractors, and related topics. You can also check our roofing blog or call us to schedule an appointment at (647) 847-8826.