Roof Repair and Preventative Roof Maintenance
Roof Repair Topics:
Flat Roof Repair
Metal Roof Repair
Shingle Roof Repair
Roof Tile Repair
Skylight Repair
Emergency Roof Repairs
The principle of preventative roof repair and roof maintenance is just like any other. Failing to change the oil in your car will cause serious repair problems and the same applies to repairs to a roof. Preventative flat roof repair or even preventative roof tile, metal, or shingle repair is much less costly than waiting for a leaky roof problem to arise.
Flat roof repair and preventative roof maintenance is important because the failure of a flat roof can cause extreme aggravation to a commercial or industrial enterprise and to a homeowner.
The cost of flat roof repair and proper maintenance will save a flat roof owner a great deal of expense over time.
Toronto has extreme temperature swings and the weather in Southern Ontario is very tough on flat roofs in particular. Flat roof repair on the West Coast is much different than Flat Roof Repair in Toronto for example, and our flat roof repair and roof maintenance programs are expert – single source roofing solutions.
Our flat roofers are flat roof specialists – they only repair flat roofs, our flat roofers are tooled for all flat roof repair scenarios, and our flat roofers are on call for emergency roof repair at (647) 847-8826
Our Toronto flat roof division roofers regularly repair flat roof systems on commercial, industrial, and residential tar and gravel, SBS modified, EPDM, TPO, PVC, and built up flat roofing systems.
For further flat roofing and flat roof repair information, enter your search term (inquiry) in the search box located to the left side of our roofing blog – results will be listed for information on this blog, any web pages linked to our blog, and the Internet in general.
Metal roof repair can be a frustrating roof repair scenario for building owners and roofers alike because the roof leaks can be very intermittent. Adding insult to injury; when hiring a metal roofing contractor to repair a metal roof, many people make the mistake of hiring a roofing contractor that does not know how to fix a metal roof properly.
The problem is that metal roof repairs are typically necessary due to expansion and contraction of the roof metal at the seams of the metal roof panels and also at the roof penetrations.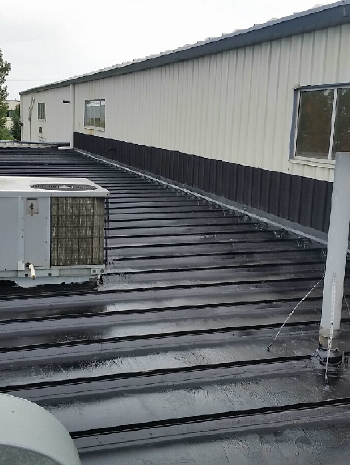 Metal roofs expand and contract much more than most roofing materials (especially in a climate like Toronto) and as a result metal roofs tend to leak more often and more intermittently than most roofs.
If one does not understand the inherent leaky problems that come with a metal roof and if the attempt to repair the metal roof is executed with conventional roof repair methods (say as a shingle repair would be done), this typically results in an unhappy customer as the repair won't hold, the roof leaks again, and the building owner is back to the same problem and short some money. So more often than not, the real solution to a metal roof repair issue is simply having the right metal roofer do the roof repair. Metal roofing is a specialty roofing trade and as such it requires an expert.
We have have journeyman metal roofers that work exclusively in our metal roofing division. Our metal roofers have metal roof repair techniques and materials that a general sloped roofer wouldn't typically possess – if there is a solution to your leaky metal roof our metal roofers will find it, show you what is occurring, and they will remediate and bring solutions to your metal roofing issues.
For further metal roofing and metal roof repair information, enter your search term (inquiry) in the search box located to the left side of our roofing blog – results will be listed for information on this blog, any web pages linked to our blog, and the Internet in general.
Shingle repairs can be difficult to assess and repair as shingles are typically on steep roofs and at times the roof itself can be quite high.
Shingle repairs are most often a result of a roof penetration leak such as a skylight, a roof vent, or roof flashing… shingle blow-offs are also a common problem with shingle roof leaks.
The problems we see with shingle repairs are more often than not a result of the original installation of the shingles and not the roof system itself (the typical issue with metal roof repairs).
Our blog is full of posts about proper shingle installations. How to shingle a roof properly seems to be an art most don't like to fully engage. Nonetheless, there is hope because shingle roof systems work well when installed right.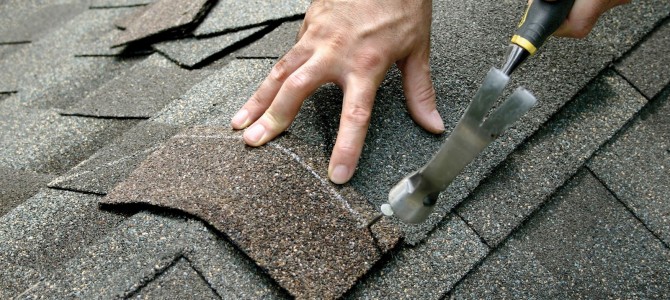 Search terms such as "shingle roof underlayment", "how to install shingles", "installing roof shingles", etc on our blog and a number of posts will show you the proper shingle installation procedures.
And we must not forget, one of the other primary reasons for a leaky shingle roof is the attic space and the ventilation of the roof. Here again, as it applies to roof ventilation and attic condensation, in a climate like Toronto's, this can be especially of concern as the freeze thaw cycle and snow loads can cause allot of condensation and roof ice damming issues.
If you are having problems with roof leaks or condensation from your roof, ice damming, roof ventilation, etc be sure to search any of these terms in our search box on the left as our roofing blog has numerous posts on these common roof leak and roof repair problems.
Concrete roof tile and clay roof tile repair is again a specialty roof trade and as such requires a professional roof tiler. Toronto Roofer employs the best roof tilers in the roofing business and as such we can deliver real solutions to your roof tile problems.
Roof tile repairs are most commonly a result of damage to the roofing tile itself, improper installation of the roof tile, or the roof membrane under the tile. Roof tile is a watershed roofing system and if the underlay or roof membrane is compromised, so is the integrity of your roof water tightness.
Skylight repair is usually due to improper skylight installation. Skylights require proper curbs, flashing, and use of roof underlayment. More often than not, our roof repair technicians find that the flashing or the underlayment around the skylight is compromised. When water, snow, or ice back up behind the skylight on your roof, if the skylight backpan or membrane at the back side of the skylight isn't done correctly, the skylight will leak. We should also note that a great deal of skylight repair calls we receive are actually condensation issues and not skylight leaks.