Rooftop Patios, Decks, and Terraces
Flat Roof Patios – Roof-Top Patios, Decks, and Terraces
The challenge with an outdoor patio or deck on a flat roof is that the waterproofing material or membrane used on the substrate/decking has to be done perfectly. The drainage for the low slope, and the decking material put on top has to be precise
(Some patios we service are on a flat roof itself or on a terrace balcony, while others could be on a garage.)
There are various types of rooftop decks and the different waterproofing membranes that can be used. There are flat roof membranes such as 2 ply SBS Modified Bitumen, 4 ply Built up Roofing, EPDM Rubber Roofing, PVC which is a poly vinyl chloride, TPO which is thermal plastic. There are also products that can be applied to seal a substrate such as a concrete substrate with membranes like hot applied rubber asphalt systems and cold applied liquid rubbers (elastomeric coatings etc.)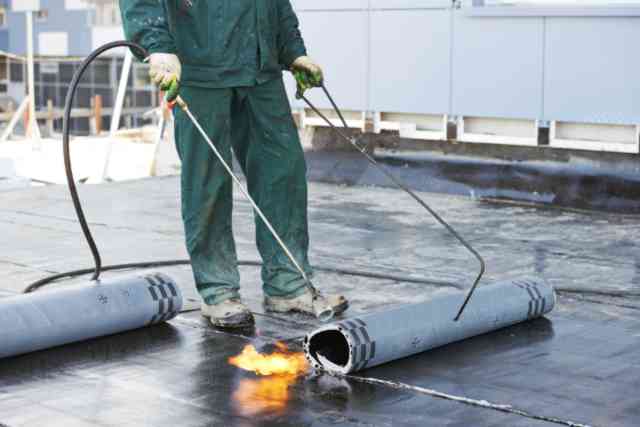 The next issue that you would face on a flat roof would be the drainage issue. All repairs would need to be done with extreme precision in order to allow the proper drainage and slop.
After you have chosen the type of rooftop deck, the appropriate waterproofing membrane for on the substrate, and the drainage is correct. You then have the issue of what you place the membrane on itself. You will need to determine if any decking material on the membrane is required. We have seen customers use a variety of surfaces on rooftop patios, with everything from ceramic tile, paving stones, treated lumber, composite tiles, to Spanish tiles and granite.
Our recommendation to those looking at repairing, installing, or replacing a rooftop patio is to speak to a waterproofing expert first. The Home Depot or Lowes store decking material associate may be able to provide some suggestions on what tile to use, yet they may not understand the proper flat /low slope roof waterproofing and drainage practices. Roof top waterproofing for a deck system is different than normal flat and everyday roofing. With rooftop decks and patios the two worlds meet. The staff at Toronto Roofer can assist you in designing a rooftop patio system that should last 20 or more years. In order to achieve these results, it is vital that owners do not try to take the least costly way out. When Owners begin to cut corners in an attempt to save costs that is where the errors occur and end up being more costly later on due to future repairs.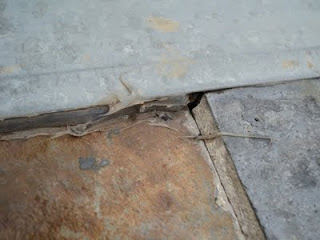 Below we have a report from a roof repair technician. It shows a rooftop patio that is not very old and was installed incorrectly. Due to the improper installation, the owner is now having to pay for costs that could have been avoided. As a result of this the deck material, patio's flat roof membrane and the sheathing/substrate will have to be removed and replaced. There is even the possibility of remediation for mold and trusses being replaced.
We hope that this article will help home owners to be more aware when purchasing decking materials and to contact a waterproofing specialist first. This tip will help you to enjoy your patio/deck for years to come without the need for a roof repair.