A new gutter system may not add much to the curb appeal of your home, but when but when properly installed, they certainly do a great job of directing water that runs off your home. Clean and flowing gutters may send hundreds of gallons of water away from the foundation of your home. Water and sun, in extreme conditions or quantities are both enemies of your home.
SIZING UP YOUR OPTIONS
Since there is not a lot of design involved in selecting a gutter system for your home, your choices come down to functionality. You will probably look for the best, longest lasting gutter system, with the best warranty, for the amount of money you wish to spend. Gutters and downspouts come in a wide range of materials, styles and prices. Choices include aluminum, vinyl, galvanized steel, stainless steel and copper. Galvanized steel gutters are the most popular as they are very reasonably priced and aluminum gutters require less maintenance but are slightly more expensive.
You may also be in a situation where due to storm damage, you have to replace a section of your current gutter system, and you may be considering scrapping what you have and starting over with a complete new gutter system.
FUNCTIONS OF THE GUTTERING SYSTEM
Dispersing the rainwater that falls onto your roof away from your home is the primary purpose of your homes gutters. It is critical that the downspouts are installed properly since an incorrectly configured guttering system can cause damage to Soffit & Fascia, Shingles, siding, Building Foundations, Driveways and Walkways and even Landscaping.
Guttering systems require maintenance to prevent damage to your home. Your gutter should be cleaned often enough that water flows freely. Leaves and pine straw that fall during the Fall months are particularly hazardous. Exposure to the extremes of nature can also cause sealant failures. Snow & Ice may cause fasteners to come loose and should be promptly repaired to prevent further damage.
SECTIONAL GUTTERS OR SEAMLESS GUTTERS?
All gutters are either sectional or seamless. A seamless gutter is made of one continuous piece of gutter material and the only seams are on corner miters and downspouts. Sectional gutters, as you might expect are sold in pieces and installed as component systems. Since Seamless gutters have no seams to fail, they are considered more durable. The seams of sectional gutters can weaken over time and cause leaks after a couple of years. The weather extremes of hot, cold, wind and rain cause constant expansion and contraction of the gutters, which tends to crack the seam caulk of sectional systems.
The primary reasons for the popularity of seamless gutters are because they reduce the possibility of leaks, have baked-on enamel finish that does not require painting, and they are formed on the site using exact field measurements.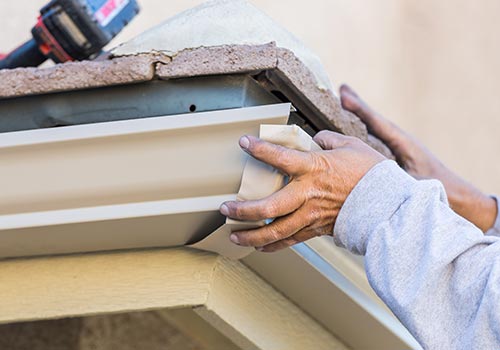 SRC Roofing and Siding has top-notch professional estimators standing by to take your call and help you choose the best gutter system for your home, or to assist you with insurance claims to make any repairs that are required. We have been in business for over 20 years, and we are licensed, bonded, and insured.
Gutter installation is an easy start-up business. Don't trust this kind of work to just anyone. There are many contractors in your area who don't have much experience, and they may not be around next year.
At SRC Roofing we work with all of our clients to ensure that they are completely satisfied with our work. We realize that your home is a major investment; this is why we are very detail-oriented and efficient when providing you with service. If you are in need of roofing services, contact us today.