Industrial & Commercial Roof Waterproofing Solutions
Metal, Flat Roof or Waterproofing Problems?
Toronto Roofer has been installing liquid rubber coatings on an increasing number of commercial and industrial applications lately.  It is the first time that a waterproofing product has come along that is truly predictable and highly effective. The development and use of liquid rubber coatings has solved several roofing and waterproofing related issues in both above and below grades in a very effective, predictable, and cost effective manner.
Liquid rubber coatings: liquid rubber coatings are made up of 100% solids, the coatings will not shrink as liquid rubber has superior adhesion that will bond to almost any construction material or substrate. They have elongations that exceed 350% and in some instances up to 1000% with a memory greater than 95%.
Liquid rubber is solvent free with no VOC's and are compliant with all known environmental and OSHA requirements. It can be used in confined spaces with-out respiratory equipment.
The coatings are resistant to thermal shock and will not crack in extreme cold, it will not slump or soften in extreme hot temperatures. Liquid rubber coatings can also be painted and are UV resistant.
Liquid coatings can be trowel , squeege , and spray applied.
Unlike urethanes, polyether-based liquid coatings and sealants will resist the damaging effects of sun (UV), rain, with both cold and hot temperature extremes. Unlike silicones, polyether liquid rubber coatings are paintable and do not smell therefore enabling it to be used in confined spaces.
Here are just some of the commercial and industrial benefits of the liquid rubber coatings:
Metal Roofing and Flat Roofing: Liquid rubber is an excellent solution for metal and toronto flat roofing. It is a hot rubberized asphalt mix that roofers have been installing on substrates such as concrete for decades, but what we are speaking of here is cold liquid rubber being applied. Liquid rubber is an excellent solution for flat roof restorations and metal roof problems.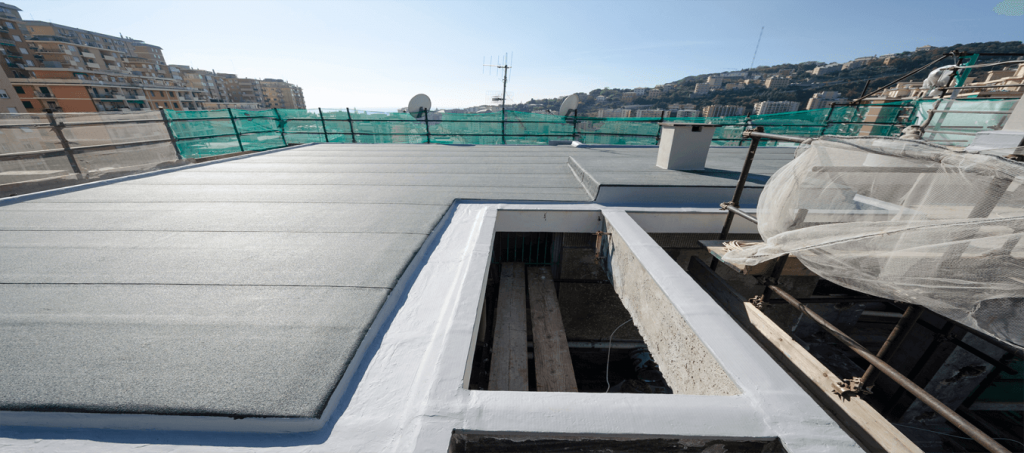 The Liquid rubber coating is an excellent solution to all metal roof issues. The liquid rubbers traits help to resolve issues such as rust due to the rubbers excellent rust inhibitors. It is able to seal leaks without the roofs expansion or contractions being an issue due to the 350% – 1000% in elongation with a 95% memory. Liquid rubber has no VOC's (100% VOC compliant) and is a true green roofing product. With a 10 year warranty extendable to 20 years on maintenance contract at 1/3 to 1/2 the cost of replacing a flat roof, nothing comes close to life cycle costing of liquid rubber roofing.
Below Grade Waterproofing: Liquid rubber coatings can be used on almost any surface in any location that you may need waterproofing, including concrete. It can also be used on equipment wells, in between slab waterproofing, and other underground construction scenarios.
Pond Liners: Pond liners are typically applied with some form of rubber such as EPDM. It enables you to spray on the liquid rubber efficiently and with whatever level of thickness required. The American military sprays liquid rubber onto the containers that the troops drink from, if they use it for that then it is certainly good enough as a pond liner.
Eaves troughs – Gutters: Gutters can be coated on the inside to stop leaks.
Planter Boxes: There is nothing better than using liquid rubber to seal planter boxes. Liquid rubber waterproofing will help keep the water in the box.
Green Roofing Systems: Liquid rubber is ideal for green roofing as it is VOC free!
Plaza Decks: Plaza decks can be a difficult waterproofing scenario for facility managers due to the constant movement. Yet with the liquid rubber waterproofing it will outperform most applications. The movement of the structure no longer will be an issue with the elongation ability of the rubber.
Concrete and Asphalt Repairs: Sealing the cracks in concrete on asphalt is an ideal application for liquid rubber
Bulkhead Penetrations and Joints: Liquid rubber coatings will not shrink therefore it can be used in waterproofing bulkhead penetrations and joints.
Commercial and Industrial substrates and construction materials that liquid rubber can be applied to: ISO Insulation Board (such as flat roof ISO), Concrete, Steel, FRP, Drywall, Wood, Plywood, OSB, Asphalt, EPDM, TPO, PVC, EPS, SBS Modified Cap Sheet and SBS Base Sheet, Fiber, Board, Dens Deck, FRP (Fiber Reinforced Plastic), etc…
Please Call Toronto Roofer today at (647) 847-8826