This is one of our Commercial Roofing Projects in Toronto to assist owners of commercial roof systems to visual the process of a commercial roof re-roofing process (more specifically an EPDM Commercial Roof Recovery System).
The photos in this post show today's progress on the EPDM Commercial Flat Roof Recovery system.Material Used:
The EPDM is a Carlisle EPDM (labelled under the Mulehide name).
The sheathing at the roof parapets is 3/8″ spruce.
The ISO board is a standard IKO 1″ ISO mechanically fastened.
The old Built-Up Roofing (BUR) system had the gravel removed, was skinned (ripped) to the fiber board, a 1″ ISO insulation board mechanically fastened, any wet insulation removed, and the commercial roof parapets had the metal removed as required. Sheathing installed to the parapets and along any roof penetrations, upstands, etc. as the EPDM cannot be adhered to the metal flashing around the skylights, or to anything with asphalt present. For commercial re-roofing, this EPDM roof recovery system is used often and in many instances is an excellent alternative to a complete removal of a BUR roof system when doing a commercial re-roof. The idea of taking an old built-up tar and gravel roof completely out and throwing it in the landfill not only costs needless money, it is harmful to the environment, and a roof recovery has the same life-cycle as a complete commercial roof replacement.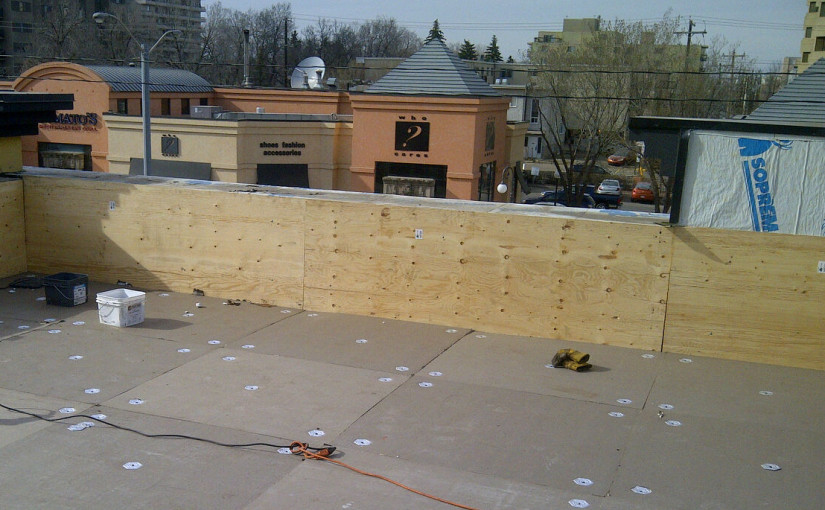 The photo above shows EPDM up the roof parapet walls, across the top of the parapet, terminating on the front side – giving the roof membrane a monolithic type seal. The metal cap flashing will be installed next and finish this Commercial Roof System in the coming days.
The commercial EPDM membrane installed at this site is a Carlisle EPDM Membrane labelled under the name Mulehide EPDM roof membrane.
The photo shows the ISO flat roof board mechanically fastened prior to the installation of the fully adhered EPDM. The walls (parapet walls) were covered with plywood to comply with the EPDM manufacturer specifications (the parapet walls of this commercial roof are concrete). Prior to installation of the mechanically fastened ISO, the Built Up Roofing System was scraped of the gravel (Tar and Gravel Roofing) and the layers of Built Up Roofing were ripped or removed and disposed of.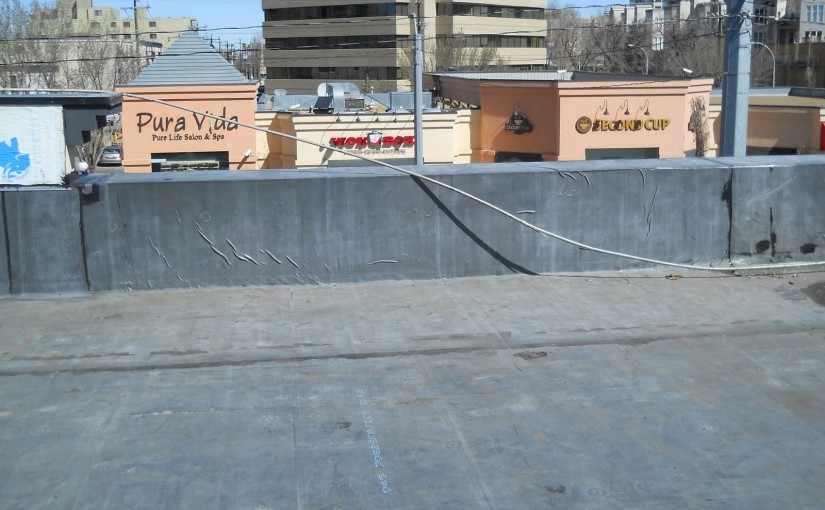 The photo above shows the completed commercial EPDM membrane fully adhered to the ISO. The metal cap flashing will be placed next to both protect the parapets and also for curb appeal.